ホーム > English

VISITOR GUIDELINE FOR GROUP VISIT
In order to prevent COVID-19 infection, group visits will be organized according to the criteria described below.
・Number of visitors: max 80 people for 1 visit.
・If any group member have following symptoms, please remove the member from group visit,
1) Fever oosakaabove your normal temperature.
2) Shortness of breath or difficulty breathin
3) Fatigue, Cough or Sore throat
・Please keep a social distance of 1.6m /6 feet.
・Please don't speak loudly.

Thank you very much for your cooperation.
---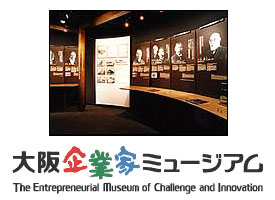 As a project to commemorate the 120th anniversary of the founding of Osaka Chamber of Commerce and Industry, EMCI was established by OCCI in June 2001, as Japan's first unique Museum to introduce entrepreneurs who greatly contributed to developing modern industries of Japan as well as to supporting the people's livelihood.

The founding concept of EMCI is none other than the handing-down of entrepreneurship on to the next generation, to nurture and develop human resources for the future who would display such enterprising spirit, triggered by the sympathized high spirit of predecessors.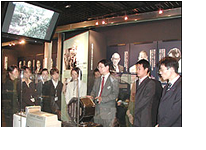 The main exhibition area introduces 105 entrepreneurs from Osaka※ and mainly Western Japan, by era and by industry, including such founders of Matsushita Electric Industrial Co. Ltd. known for its 'Panasonic' and also of Nisshin Shokuhin Co. Ltd. that developed the world's first instant noodle. Come and directly feel their enterprising spirit - lofty ambition, abundant ideas, keen insight, unique points of view, ingenuity and contrivance, will to carry through etc.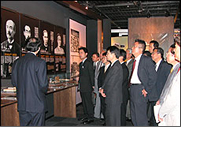 With visitors from more than 110 countries around the world since the opening, EMCI has gained public favor, as seen from comments such as: "One hour of visit has taught us much about the process of Japan's modernization or history of Japan's industries" or "greatly encouraged and inspired by feeling entrepreneurs' enthusiasm."

OPEN HOURS AND ADMISSION

 OPEN HOURS 

Our business hours are currently as follows:
  Tue. to Sat.  10:00 - 17:00
    Admission until 16:30



CLOSED on Sun, Mon, National holidays,etc

 ADMISSION 



| | |
| --- | --- |
| Adult | JPY 300 |
| Student | JPY 100 |
| Under 6 years | Free |
| Over 65 years or handicapped person | JPY 200 |
| Over 10 people adult group | JPY 200 |
FOR GROUP VISIT
 FOR GROUP VISIT 
Tour Guide (in Japanese only) is available per group for over 10 people, up to 80 people.
Reservation is needed.
Sample group tour schedule (Total approx.90 min.)
Lecture by museum staff (approx.25min.)
Lecture of "entrepreneurial spirits" and selected entrepreneurs' achievements with power point presentation at your request.
Prologue Theater (13 minutes video in English )
"The origin of the entrepreneurship of Osaka"
Look back from the end of the 16c.up to the end of the 19c., find out how Osaka became the origin of the entrepreneurship.
Guided tour (approx.50min.)
Provided a guide per about 10 - 20 people. Explain selected entrepreneurs, for example, MATSUSHITA Konosuke of Panasonic, ANDO Momofuku (inventor of instant ramen noodles) of Nisshin foods etc..
English voice guide is also available, free of charge.  Max. 20sets. (approx.40min.)
Time schedule can be arranged by your request.
RESERVATION

RESERVATION

Please e-mail us following information:
Group name and numbers
Person in charge
Date and time of visit (start and end time)
Your address
Your phone number
Your phone number in Japan
Your e-mail address
Request about presentation( if any)
Purpose of visit
E-mail to: museum@osaka.cci.or.jp
CANCELLATION / NO SHOW POLICY
Once a reservation is confirmed, please notify us by fax or email of any cancellation of the booking at least 1 day (24 hours) before arrival in order to avoid a charge of full entrance fee to be imposed. In an event of a guest No Show, entrance fee according to the number reserved will be charged.
ACCESS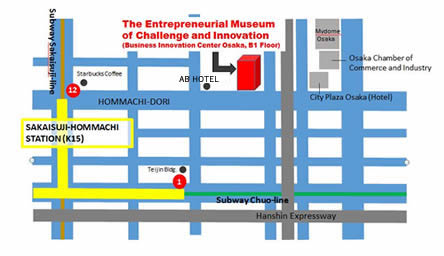 BY SUBWAY:

5 minutes' walk from Sakaisuji Hommachi station (K15) #12 or #1 exit: subway Sakaisuji line and Chuo line. 



 CAR PARKING:

Please park at business Innovation Center Osaka parking B2 (No large buses on vans allowed) 
http://www.sansokan.jp/map/#map2



 SIGHTSEEING BUS PARKING:

Please park at Osaka Castle Park Jonan Bus Parking
https://osakacastlepark.jp/articles/detail.html?id=201

The Entrepreneurial Museum of Challenge and Innovation
B1 floor, Business Innovation Center Osaka,
1-4-5 Hommachi, Chuo-Ku, Osaka
TEL: 06-4964-7601 / FAX: 06-6264-6011